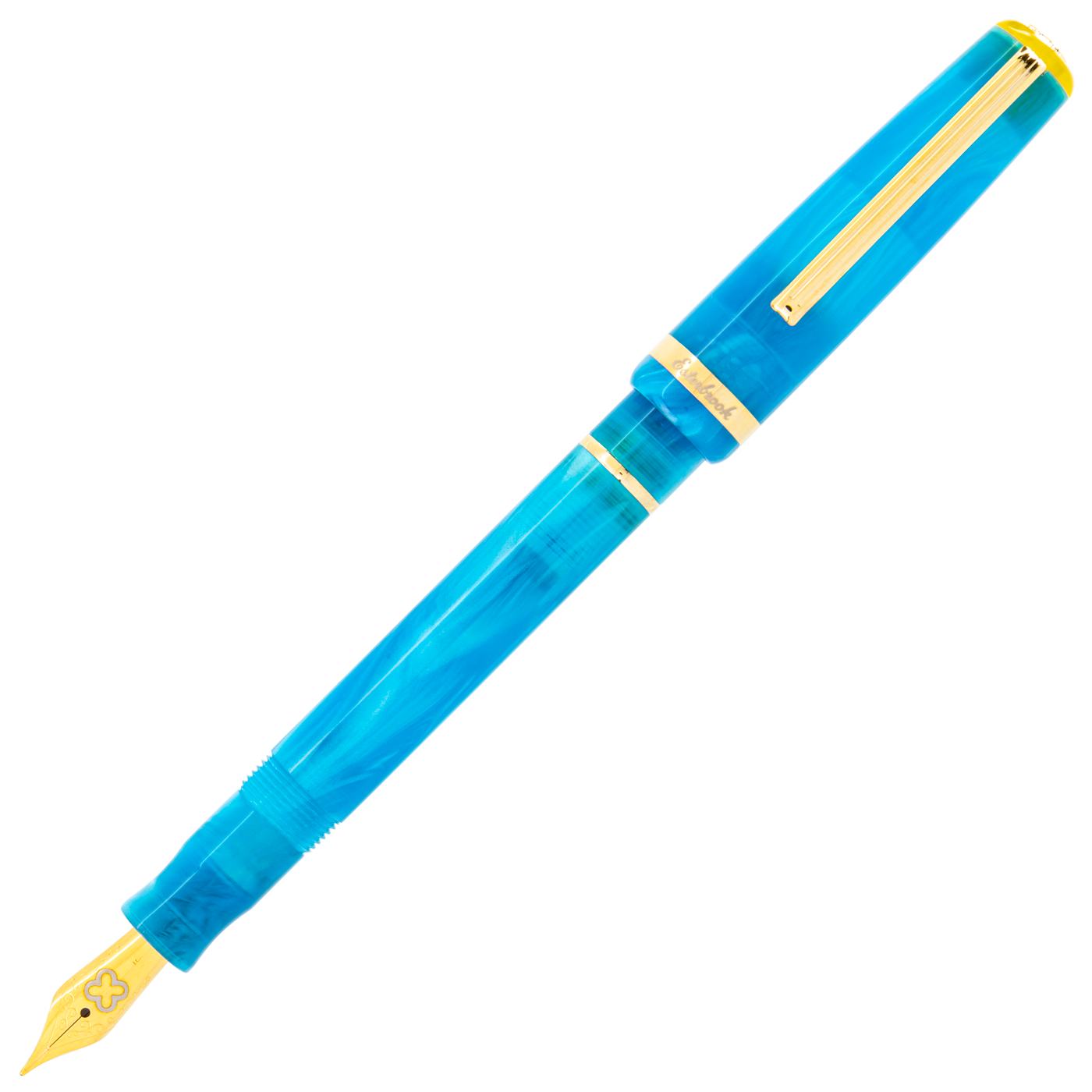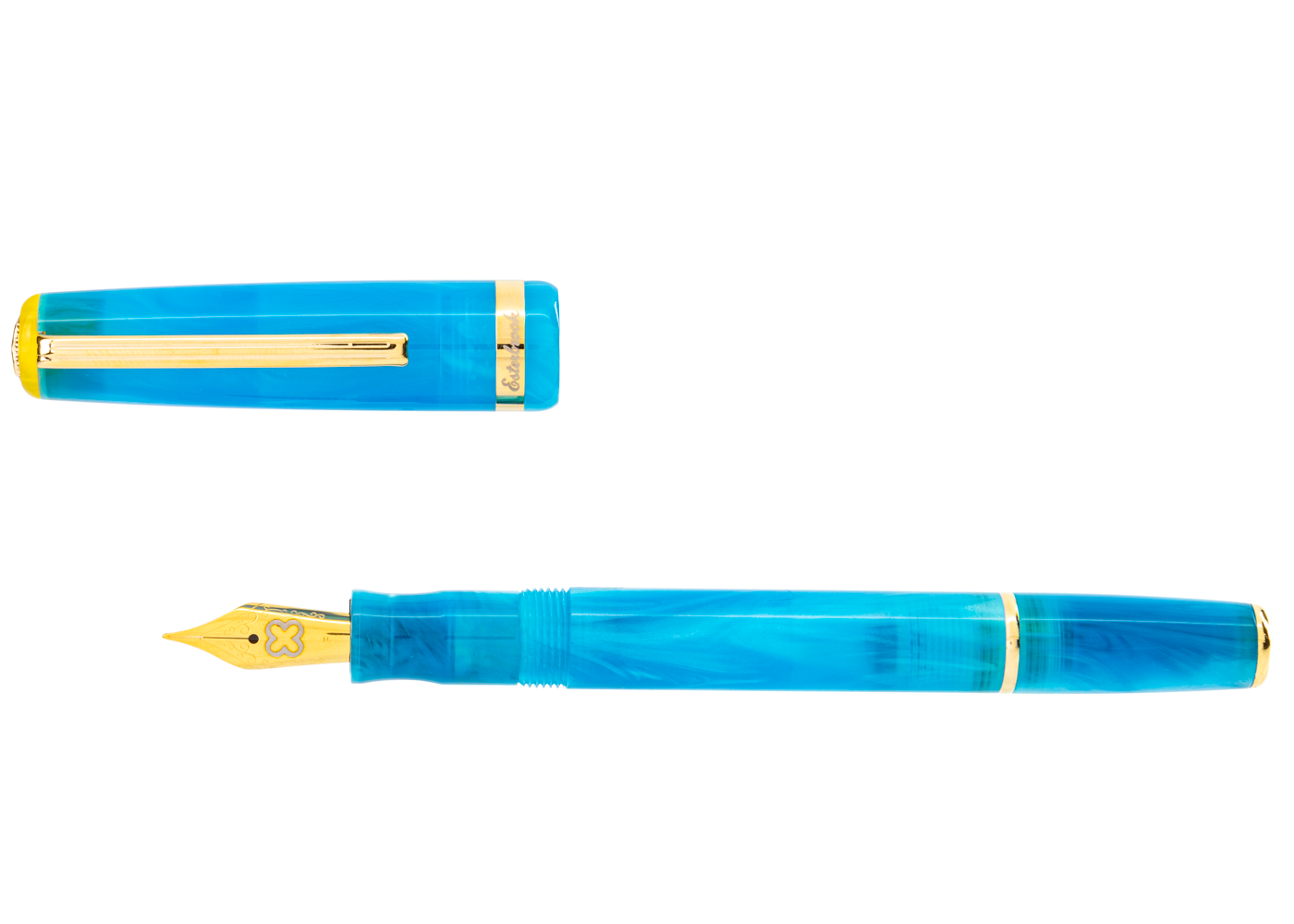 Esterbrook JR Pocket Pen Paradise Collection- Blue Breeze Fountain Pen
Pickup available at Vanness
Usually ready in 24 hours
Esterbrook JR Pocket Pen Paradise Collection- Blue Breeze Fountain Pen
Vanness
Pickup available, usually ready in 24 hours
5320 South Shackleford Road
Suite E
Little Rock AR 72204
United States
+15013532362
In stock
JR Pocket Pen: PARADISE COLLECTION
Because even the most refined fountain pen lover needs a tropical vacation, Esterbrook is pleased to introduce the first limited edition, seasonal offering of "JR" pens, the Paradise Collection.
The "J" was Esterbrook's sleek and suave, classic pocket fountain pen that appealed to the practicality of the times. It was a perfect pen for both men and women, and it still is today.  
The new "JR" model, introduced as part of the revival of the Esterbrook brand and added to the core line of collections, is stylish and refined without being too fancy.  It's meant to match your style, as nicely as it graces your hand. With an elegant design, that isn't fussy, it is compact in size, so you can always have one on hand and with you on the go, wherever you go. 
The Paradise "JR" Collection is the "JR" Pocket Pen on the rocks with a salted rim and a twist.  Offered in three limited edition colors, Lemon Twist, Orange Sunset and Blue Breeze, think soothing breezes, warm ocean currents, bungalows, painted buoys, panoramic views for miles, mangroves, marinas and lounging for hours with a cocktail in hand and the mellow melodies and vivid lyrics of Jimmy Buffett floating through the air. 
And since we hope you'll hold onto it long after you ditch your flip flops, sunglasses, and day drinking, both the German Schmidt nib and the top of the pen have been engraved with the Esterbrook Eternity symbol.
It's Esterbrook's tropical take on the small but mighty, ready for summer, pocket pen.
Cartridge and Converter included 
Cap can be posted 
New Top finial design 
Specs

Metal clip and accents plated to match the ring and nib

Ergonomic grip
Threaded cap
Stainless steel nib with gold plating
Nib sizes include extra fine, fine, medium, broad,  stub 1.1, Journaler, and Scribe
Eternity symbol on cap finial
Length capped – 12.5cm or 5" / length posted 15.5cm or 6"

Weight – 0.7 oz
Cartridge and converter fill – both included
Polishing cloth included
Fabric gift box
Choose from Extra Fine, Fine, Medium, Broad, or 1.1 nibs. Or upgrade your nib with the custom ground Journaler or Scribe nib.
Journaler Nib: The Esterbrook Custom Nib Program is our way to highlight exceptional American nibmeisters and we've asked some of the most prominent and exceptional nibmeisters in our community to create nibs to be a part of Esetbrook's storied legacy. Gena Salorino of the Custom Nib Studio in Los Angeles has created the first edition. An apprentice to nibmeister John Mottishaw of Nibs.com for nearly four years, Gena's nib work is derived from his style, but as she's established Custom Nib Studio, her signature nibs have become well-known in the marketplace for her own trademark style and beautiful handmade quality. 
In her own words, the custom nib Gena is grinding for Esterbrook is a "medium stub grind, based on the vintage Esterbroook 9314M nib. The idea is that it's smooth and friendly enough for everyday use, gives your writing some flair, all without being too huge for practical writing". Available for the Standard and Oversized Estie's as well as the new Camden, Gena's custom nib has an MSRP of $50. This nib will replace your standard nib. Meaning, your pen will come with just this nib and not as a second nib unit.
Scribe Nib: The Scribe Nib is a modified Architect nib that is smoother and more user friendly to those who do not need the sharpness of the true Architect nib. Esterbrook developed this nib with Josh Lax over a period of months so it is fun and exciting and adds another unique nib/writing experience to the line up. Available for the Standard and Oversized Estie's, Josh's custom nib has an MSRP of $60. This nib will replace your standard nib. Meaning, your pen will come with just this nib and not as a second nib unit.
Check out Esterbrook Ink These Inks made by Esterbrook compliment this Pen.
Check out our monthly staff picks for great Inks, Paper, and accessory ideas.