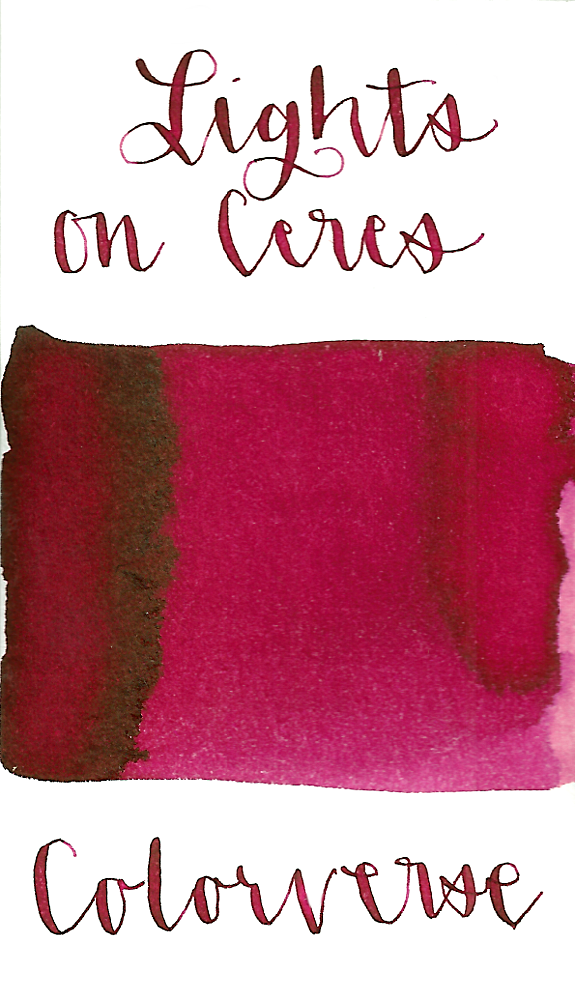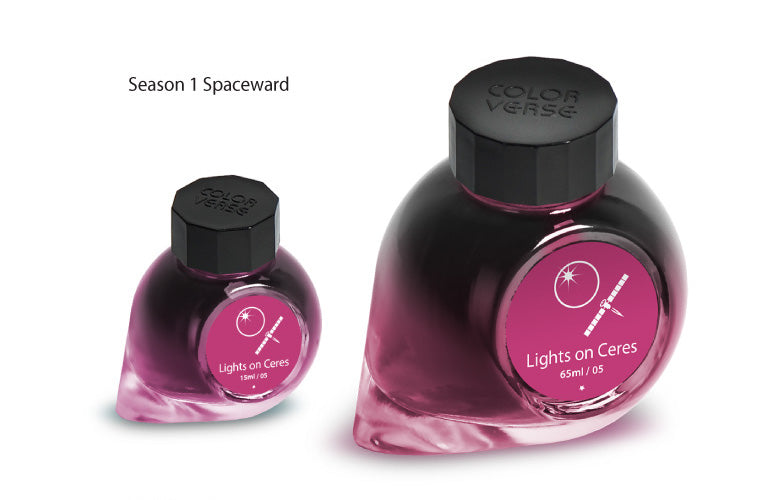 Colorverse 05 Lights on Ceres
Pickup available at Vanness
Usually ready in 24 hours
Colorverse 05 Lights on Ceres
65ml & 15ml Bottles
Vanness
Pickup available, usually ready in 24 hours
5320 South Shackleford Road
Suite E
Little Rock AR 72204
United States
+15013532362
In stock
Colorverse Lights on Ceres from Season 1 Spaceward is a vibrant hot pink ink with medium shading. It dries in 40 seconds in a medium nib on Rhodia and has an average flow. Colorverse ink is made in Korea.
Ceres is the largest object in the asteroid belt between the orbits of Mars and Jupiter. Ceres was the first asteroid discovered, on 1 January 1801 by Giuseppe Piazzi at Palermo Astronomical Observatory in Sicily. Originally considered a planet, it was reclassified as an asteroid in the 1850s after the discovery of dozens of other objects in similar orbits. In 2006, it was reclassified again as a dwarf planet (like Pluto, but Ceres is the only one that always stays within Neptune's orbit). It is 580 miles in diameter, and is the only asteroid large enough for its gravity to maintain it as a spheroid.
In 2015, NASA's space probe Dawn discovered several bright features on the surface of Ceres. Dawn found Ceres's surface to be a mixture of water ice and hydrated minerals such as carbonates and clay. Data suggests that Ceres' mantle and core are a muddy ice-rock mix, while it's crust is less dense and about 1/3 ice. The bright spots are highly reflective and thought to be ice or salt, specifically hydrated magnesium sulfate that rose to the surface, and sublimated (changed from a solid to a gas, without passing through a liquid state) leaving the salt deposits behind. 
Dye Based Fountain Pen Ink
RGB Color: 190, 59, 118
Web Color: #BE3B75
Pantone Color: Rhod. Red U
Surface Tension: 55.0 dyne/cm 20 ℃
PH: 9.1
| | |
| --- | --- |
| Brand | Colorverse |
| Ink Name | Lights on Ceres |
| Country of Origin | Korea |
| Color | Pink |
| Dry Time | 40 Seconds (Pilot Vanishing Point Medium Nib on Rhodia Paper) |
| Flow | Average |
| Shading | Medium |
| Sheen | No |
| Shimmer | No |
| Limited Edition | No |
| Water Resistance | Low |
| Iron Gall  | No |
| Pigment | No |