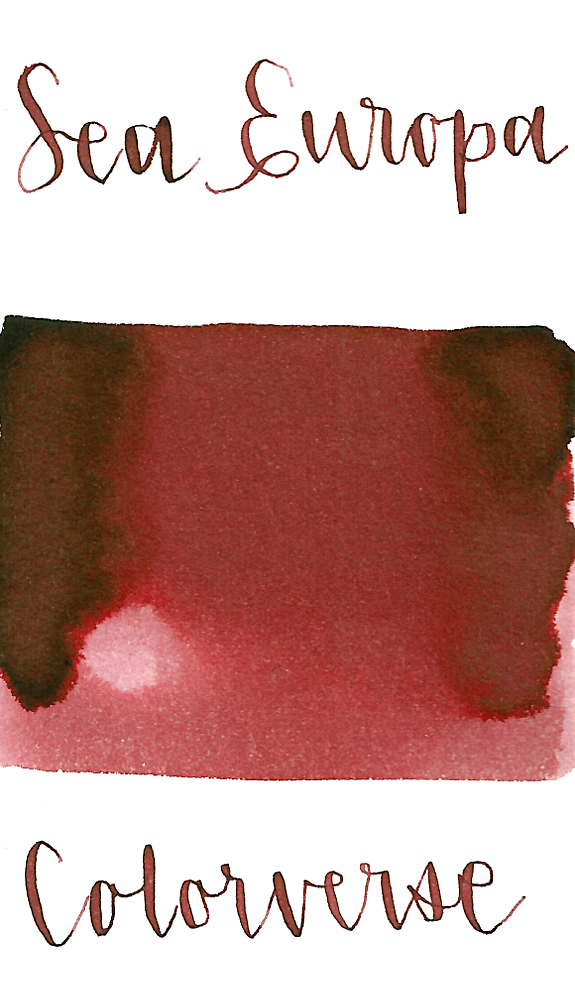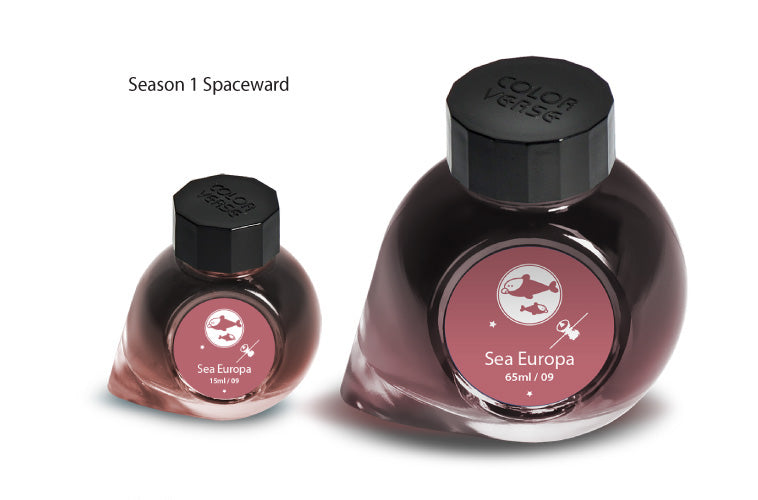 Colorverse 09 Sea Europa
Pickup available at Vanness
Usually ready in 24 hours
Colorverse 09 Sea Europa
65ml & 15ml Bottles
Vanness
Pickup available, usually ready in 24 hours
5320 South Shackleford Road
Suite E
Little Rock AR 72204
United States
+15013532362
In stock
Colorverse Sea Europa from Season 1 Spaceward is a medium desaturated red fountain pen ink with medium shading. It dries in 30 seconds in a medium nib on Rhodia and has an average flow. Colorverse ink is made in Korea.
Europa is the smallest of the four largest moons orbiting Jupiter that were discovered by Galileo in 1610. It is also the sixth-closest to the planet of all the 79 known moons of Jupiter, as well as the sixth-largest moon in our Solar System. 
Slightly smaller than Earth's Moon, Europa is primarily made of silicate rock and has a water-ice crust and probably an iron–nickel core. It has a very thin atmosphere, composed primarily of oxygen. Its surface is striated by cracks and streaks, but craters are relatively few. In addition to Earth-bound telescope observations, Europa has been examined by a succession of space-probe flybys, the first occurring in the early 1970s.
The Galileo mission, launched in 1989, provides the bulk of current data on Europa. No spacecraft has yet landed on Europa, although there have been several proposed exploration missions.
Check out this website created by NASA where you can learn more about Europa.
Dye Based Fountain Pen Ink
RGB Color: 204, 101, 112
Web Color: #CC646E
Pantone Color: 702 U
Surface Tension: 60.0 dyne/cm 20 ℃
PH: 8.9
| | |
| --- | --- |
| Brand | Colorverse |
| Ink Name | Sea Europa |
| Country of Origin | Korea |
| Color | Red |
| Dry Time | 30 Seconds (Pilot Vanishing Point Medium Nib on Rhodia Paper) |
| Flow | Average |
| Shading | Medium |
| Sheen | No |
| Shimmer | No |
| Limited Edition | No |
| Water Resistance | Low |
| Iron Gall  | No |
| Pigment | No |